10 Best Personal Finance Podcasts To Listen To In 2021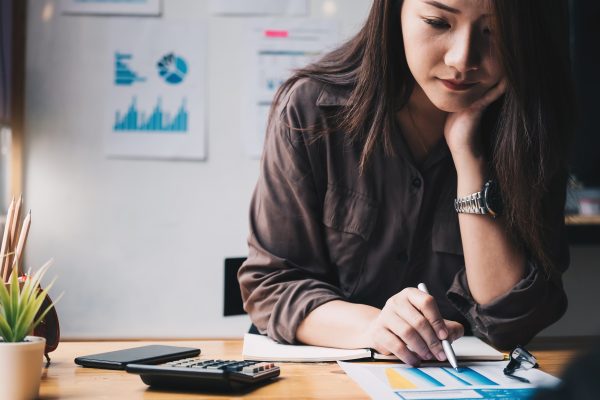 Personal finance podcasts are perfect for time-strapped listeners who want to manage their money better. With literally hundreds of financial topics to choose from, you can brush up on news, budgeting, growing your wealth or even learning the basics of investing.
Of course, there's no single best personal finance podcast for everyone, but here are some great ones for millennials, recent grads and young professionals — or really for anyone who wants to learn all they can about their money:
Farnoosh Torabi, host of So Money, is relatable: She spent her early 20s crawling out of student debt as a financial reporter in New York City. After recognizing the complicated beast of money and the fact that today's young adults are tossed into the world with little to no tangible financial education, she took it upon herself to school them. Torabi interviews everyone from listeners who have an interesting (and insightful) story to tell to world famous personal finance gurus like Tim Ferriss. The show covers topics on everything from ETFs and finding a suitable wealth manager to investing in corporate debt and pensions.
Why you should listen: Finance and personal finance are often quite separate distinctions (pensions being a case in point), and this is a great jumping off point for the latter.
Never boring, always enlightening, the Money Guy Brian Preston with co-host Bo Hanson discuss a wide range of timely financial topics that can help you go beyond common sense. They do deep dives into anything from 401ks, IRAs, Backdoor ROTH Contributions, Asset management and wealth growth. They are easily my go-To.
Their professional focus makes them a rare asset in the realm of FinMedia. They have years of experience related to financial planning and investment management, and they leverage their knowledge for your benefit. They help you focus on the things you can control and manage the things you cannot.
Why you should listen: Are you ready to go beyond common sense when it comes to your money? Check out all the resources The Money Guy Show provides on their website https://www.moneyguy.com/
ChooseFI hosts Jonathan and Brad cover various topics with the goal of helping listeners gain financial independence. From cutting down on expenses and debt to making the most of passive income streams, they offer actionable tips to apply to every aspect of your money. New episodes are released Mondays, Wednesdays and Fridays.
Hosts Jonathan and Brad started ChooseFI with the ultimate goal of documenting their journeys to financial independence, showcasing the path of someone still figuring it all out. As a result, these episodes are incredibly relatable.
Why you should listen: Choose Financial Independence or ChooseFI is a community of regular people striving for financial independence. They discuss all kinds of topics that you could use today to reach your own financial goals.
The Financial Freedom podcast, hosted by Grant Sabatier, shares strategies for mastering money and living a meaningful life while you're still young. Topics include investing, side hustles, personal finance, real estate, entrepreneurship, early retirement and more.
Why you should listen: Grant Sabatier retired at age 30. He knows the ins and outs to mastering your money so you, too, can gain financial freedom and retire early.
The main idea of her podcast is "You can afford anything, but not everything." she focuses on prioritizing your spending to accomplish long-term financial goals.
Pant began working as a journalist in Colorado after graduating from college, and it didn't take her long to realize that she wanted more. After working several side jobs to boost her savings, she took a two-year trip that spanned several different continents. Upon her return, she knew that a 9-to-5 job would never again be for her and learned to develop passive income streams through wise investments.
Why you should listen: If you're interested in real estate investing, Paula Pant is your girl. Her podcast discusses everything personal finance, with a focus on building wealth through passive income.
Join the Mad Fientist as he interviews personal finance icons like Mr. Money Mustache and Vicki Robin to discover the strategies they used to achieve financial independence and retire early! Learn about investing, tax avoidance, entrepreneurship, travel hacking, real estate, and all things related to financial independence and early retirement!
Why you should listen: The advice you'll hear is actionable but also conceptual—the podcast challenges listeners to abandon old ideas about what retirement and financial independence should look like and when it should happen.
Robert Kiyosaki, a big name when it comes to the investment world, you've probably heard his name some where. Yes, he is the author of Rich Dad Poor Dad.
He is known for his lack of enthusiasm towards mainstream financial advice. A 45Minute Long episode where he shares his views on finding successful investments.
He discusses about economics, business and personal development. If you enjoyed his book, then you will surely enjoy his podcast.
Why you should listen: Frustrated and frightened by the financial advice being given by the mainstream talking heads, Robert Kiyosaki sits down with professionals from the world of money, investing, business, and personal development.
If money is a real headache, then this financial podcast could be right for you. "Money for the Rest of Us" is hosted by David Stein and it offers comprehensive tips and advice on how to manage money, how to invest it and how to stop worrying about it. Recent podcast topics include the financial impact of the COVID-19 pandemic, the pros and cons of overwork and the "meme stocks" investing phenomenon, which gives you a sense of how varied the content is.
Why you should listen: A personal finance show on money, how it works, how to invest it and how to live without worrying about it.
The National Public Radio (NPR) is a nonprofit organization based in Washington DC. They are a news outlet that covers stories of all kinds of topics. They also have tons of podcasts like Hidden Brain and the TED Radio Hour. One of their business podcasts is called Planet Money, and it goes over everything in economics. They talk about all kinds of topics related to money matter, the economy, and business. If you want to learn more about the economy in a way that isn't difficult to understand this one is for you.
Why you should listen: The economy explained. Imagine you could call up a friend and say, "Meet me at the bar and tell me what's going on with the economy." Now imagine that's actually a fun evening.
Joel and Matt are excited to teach you How to Money through their podcast of that name. This podcast aims to make personal finance approachable for everyone, regardless of where you are in your financial life. At the center of the podcast is "7 Money Gears"
Knowing where you're at in this system of 7 Money Gears will help you hone in on the podcast episodes that will be most useful to you in your current financial circumstances. And you'll be able to grow into subsequent gear levels with direction from How to Money.
Why you should listen: Best friends Joel and Matt believe that when you handle your money in a purposeful, thoughtful way that works for your lifestyle, you can really start living a rich life.
Bottom Line
Money isn't everything but it does still matter. In our world, not knowing how to manage your finances can be a major source of unhappiness. Hopefully, these podcasts will help you plan your specific financial approach. No matter what you want to learn about in regards to money management, with a little digging, you should be able to find a podcast that covers it.