10 Things to Know About Idaho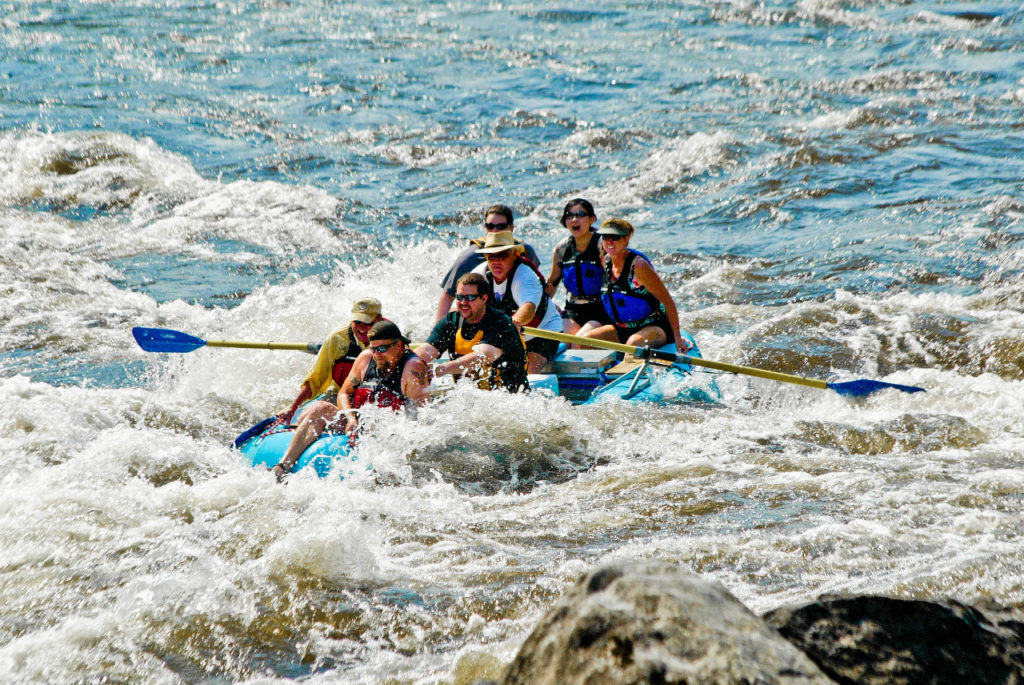 Idaho's state nickname is the Gem State, and once you've seen Idaho you'll realize how apt the name really is. Yes, there are gemstones and other natural resources, but a lot of Idahoans would say that the real gem in Idaho is the landscape. Idaho's known for its potatoes, but its official nickname is the Gem State. Some 72 different precious and semi-precious gemstones have been found there.
Idaho, which became the 43rd state on July 3, 1890, is twice the size of the six New England states combined.
2) It has more whitewater than any other state in the Lower 48.
Idaho is the whitewater capital of the US, with the Middle Fork of the Salmon River its star — National Geographic named it one of the top 10 whitewater rafting trips in the world. It's 90 miles of class II-IV rapids, sandy beaches, hot springs, and premier fly fishing. Getting a permit for the Middle Fork requires patience, but there are 3,000 miles of whitewater across the state and outfitters ready to help you run it. You can always scope out Idaho's other rapids on the Snake, Selway, and Payette Rivers.
3) Boise State fans are hardcore.
The Boise State Broncos football team has a lot of loyal fans in Idaho. You can see plenty of Boise State colors and jerseys on Idahoans, and game days draw big crowds. Idaho doesn't have any professional sports teams, so a lot of fan energy is channeled into college and minor league athletics.
4) Idahoans celebrate New Years with a potato.
Who needs the ball drop in Times Square when you have a giant potato falling from the sky in downtown Boise? The Idaho Potato Drop attracted nearly 80,000 people in 2014 with a bustling block party featuring local musicians, a beer garden, food trucks, and, well…a 17ft potato for the countdown.
5) It has the only State Seal designed by a woman.
Shortly after Idaho gained statehood in 1890, its governor decided it was time for a new state seal. The First Legislature for the State of Idaho held a national competition with a $100 prize that would be awarded to the best design. Artists from all over the country entered, but it was Emma Edwards, a recent Boise transplant and art teacher, whose painting of a male miner and a female goddess, signifying freedom and suffrage, won the competition to become the official State Seal in 1891.
6) Idaho isn't just a potato state
Idaho is the number one producer of Potatoes, Trout, Austrian Winter Peas and Lentils.
7) The world's first chairlift was built in Idaho.
In 1936, a Swiss engineer brought the world's first aerial chairlift to Sun Valley, Idaho, at the same time that a four-story ski lodge was built. And thus, the country's first destination ski resort was born. While the original chairlift is no longer in operation, Sun Valley is still one of America's premier ski mountains and a homebase for dozens of Olympic skiers and snowboarders. And, true to its name, it gets 250 days of sun per year.
8) "Fiddling Capital of the World."
Every year since 1953, competitive fiddlers from across the nation have traveled to the Idaho town of Weiser for the National Oldtime Fiddlers' Contest. Held every June, the week-long hoedown sees about 350 fiddlers competing, with tunes judged on "danceability, old-time style, rhythm, and tone." And over at the Fiddletown campground, where contestants and their families shack up, the jamming and dance party continues late into the night.
9) How Idaho was named
Wondering how the state got its name? So are its residents, as a number of sources claim the name's provenance. Lobbyist George Willing alleged Idaho meant "gem of the mountains" or "the sun comes from the mountains" in the Shoshone language. Others said the name came from the Apache word "ídaahę́," meaning enemy, or a Nez Perce phrase that translates to "land of many waters." Willing eventually copped that he totally made up the word "Idaho."
10) Idahoans Devour Anything Huckleberry
Don't be fooled by those tiny purple-blue berries' innocent looks—they're dangerous. Well, dangerous in the fact that you'll soon be addicted to Idaho's delicious state fruit. You won't be able to get your hands on enough huckleberries, whether in a pie, ice cream, jam or on their own.