Budgeting for New Parents: How to Create a Baby Budget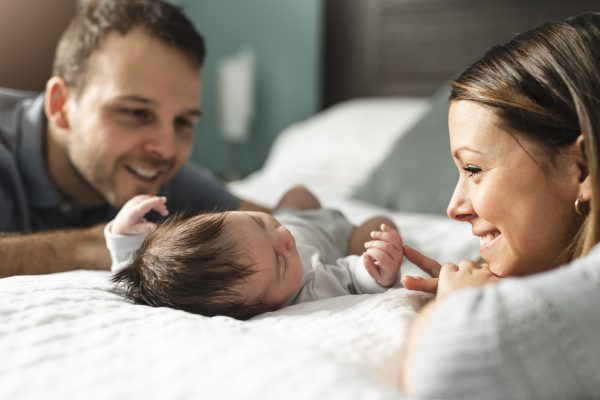 As exciting as it is to become new parents, it can be very expensive. According to US News & World Report, middle class families spend, on average, almost $12,980 per child yearly. That being said, preparing yourself financially for a child is essential. We've got the budget tips you can implement now to make sure you're ready when that bundle of joy arrives.
Children are expensive. In between diaper changes, doctor's appointments, and ensuring their future is in safe hands with a life insurance policy, you may wonder how you can afford it all, not to mention long-term money goals like retirement and paying off your mortgage.
The easiest way to stay on track? Budgeting.
Labor & Hospital Costs
Americans are often astounded by the cost of giving birth. The U.S is the most expensive developed country in the world for childbirth. The average delivery is just over $11,000. That's more than the cost of a routine delivery in Switzerland ($5,100) and The Netherlands ($3,600) combined. The average C-section in the U.S hovers around $15,000.
The price of giving birth depends on your location and insurance. According to a Health Affairs study, the average cost of delivery for insured women was $4,500. Those giving birth in urban areas will confront the highest costs, while those in the rural south and Midwest take on the lowest.
Here are the most expensive states in the U.S for childbirth (cost before insurance):
New Jersey – $29,048
California – $26,380
Florida – $22,015
Washington D.C. – $21,243
Nevada – $21,239
Here are the least expensive states in the U.S for childbirth (cost before insurance):
Nebraska – $8,805
Maryland – $8,934
North Dakota – $9,255
Maine – $9,623
Vermont – $10,377
Childcare Costs
Perhaps the biggest potential cost of raising babies and kids, however, is childcare — especially if both parents plan to continue working full-time.
Costs vary dramatically based on geography and whether you opt for a lower cost day care center, or live-in nanny.
Data from the non-profit Child Care Aware of America's 2018 survey reveal the cost of child care in the U.S. averages $11,314 annually for an infant and $9,139 per year for a four-year-old in a day care center. Live-in nannies can cost upwards of $30,000 a year.
You'll eliminate that expense if one of you quits your job to stay home with the baby, of course, but you'll lose a second income. There is also the financial impact of forgone promotions to consider, which may impact your future salary if you return to work in a few years, plus the opportunity cost of temporarily sidelining your retirement contributions.
As you do the math to determine what works for your family, keep in mind that plans are subject to change. Many new parents who expected to stay home with the baby decide they'd be happiest returning to work — and vice versa. Financial planning gives you the tools to stay flexible.
Finding Ways to Save on the Basics
When you're expecting a baby, there are a lot of companies that are going to want your business. Some of them even offer freebies or major discounts on their products, and your hospital or doctor may know about these deals. A great place to start is to simply ask around, from doctors, nurses, and fellow parents, and see what comes up!
Start to collect coupons like you never have before. Companies like Target, Walmart, and others love to offer up coupons on food, clothing, and toys, since it's a big part of their business. Check regularly at coupon sites for special savings or coupons at your local "everything-store." Another great way to save is to buy in bulk (Costco is your friend). Some moms even suggest creating a "diaper stockpile" to help ensure that diapers are always on hand, and to save money. Although, cloth diapers are also a reliable option. If you wash and care for them correctly, you can end up saving hundreds of dollars that you would have otherwise just thrown away with the disposable diapers.
Breastfeeding is also a great way to save money. It is considerably healthier for your child during the first 6 months and requires no additional formula or substitutes. Once you get to the food stage, try making some food at home for the baby. Once you find some healthy recipes, you can save money and have a better handle on what your baby is consuming.
Long-Term Expenses
To ensure you are able to stay on top of your goals with a baby arriving, it's important that you create a plan for your finances and start putting money aside as quickly as possible, not only for the expenses of a new baby but also for the long-term expenses that will come up as your child gets older.
Some expenses could include school activities, music lessons, daycare fees, babysitting costs, etc. The last thing you want to do is take on debt to meet your child's needs.
Having children might mean that you may have to save less in order to cover their needs, but it's all about being mindful of your expenses and being creative whenever you can to limit how much you are spending overall.
It's also important to keep your long-term financial goals in mind too as you make plans around your child. This way, you can still make progress towards your money goals while at the same time be able to cover your child's expenses.
Final Thoughts on Preparing for Baby on a Budget
Just remember: it's perfectly okay for your baby to have gently-used items.
Would you rather the baby be decked out in designer baby garb they won't even remember, or have money in their college fund? You don't need to spend top dollar or buy every last gadget (wipes warmer, anyone?) for your baby. Just stick to the tried-and-true basics.
Borrow as much as possible, and strategically purchase the most important baby items to make your budget go further.