How to Have a Lavish Wedding on a Budget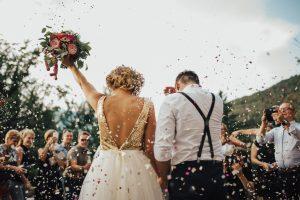 Currently, the average cost of a wedding is more than $20,000, making it one of the most expensive life events. If you don't have $20,000 to blow, don't worry. You can still have a stylish, fun, memorable wedding, while saving money at the same time. Here are 10 ways to do just that.
1. Avoid inviting people you don't know or haven't seen in a while
Keeping your circle small with just your closest friends and family is your best bet. Food, drinks, and space is limited and expensive! 80% of couples regret inviting "extra" people to their wedding, wishing they had kept it small and intimidate.
2. Ask for funding of the wedding – not wedding gifts
Skip the kitchen appliance wish list and ask for the help of your loved ones to help fund the wedding! Letting you save your money for your honeymoon or anything else needed for the wedding.
3. Hold ceremony in a backyard
Finding the right venue is the most expensive attribute to a wedding. Couples spend thousands of dollars on the venue of their dreams. Instead, use your own backyard or a loved ones, and decorate it the way you want it. Decorations are cheaper than having your ceremony at a venue. Going this route saves you TONS of money and makes it much more intimate.
4. Make your own invitations
Consider providing your own cardstock to the printer or go electronic by sending out email invitations. Or ask a creative friend or relative to hand decorate cards!
5. Choose affordable wedding rings
The internet is a great place! These days you can find anything online for a decent price, like wedding rings! You can get a decent, real wedding ring for as little as $10 if you're on a super budget. You can always upgrade your rings in the future!
6. Have close friends and family setup and organize
Setting up a wedding isn't easy nor cheap. Having your friends and family do this instead of a wedding planner can also save you thousands! Outlining how you want your wedding to be and letting your family know will help you unwind and be stress-free the day of. You can always return the favor later!
7. Keep wedding attire casual
Wedding attire is the 2nd most expensive thing about a wedding. Keep it light and simple by using clothes you already have, buying something at a consignment store, or renting!
8. Dabble in DIY decorations
This is where the internet comes into play again. There are TONS of different ideas you can get online from what other couples have done when it came to DIY for their wedding. In place of real flowers, use fake flowers etc.
9. Cook your own food
Instead of hiring a catering company, have one of your friends start up the BBQ – going to places like Costco or Sam's Club will help with bulk pricing and will help avoid spending the entire time in the kitchen
10. Connect your phone to a speaker
This is the ultimate double whammy! It not only helps you save money by purchasing a DJ – but you can put a wedding playlist of your choice! Youtube & Spotify are a couple of ideas! Grab a portable speaker and you're set!
In conclusion, you will hopefully save a lot of money on your wedding using the above tips. And above all remember, the amount of money you spend on your wedding day is not a direct correlation to how wonderful it will be.