The Ultimate Difference Between Payday Loans and Personal Loans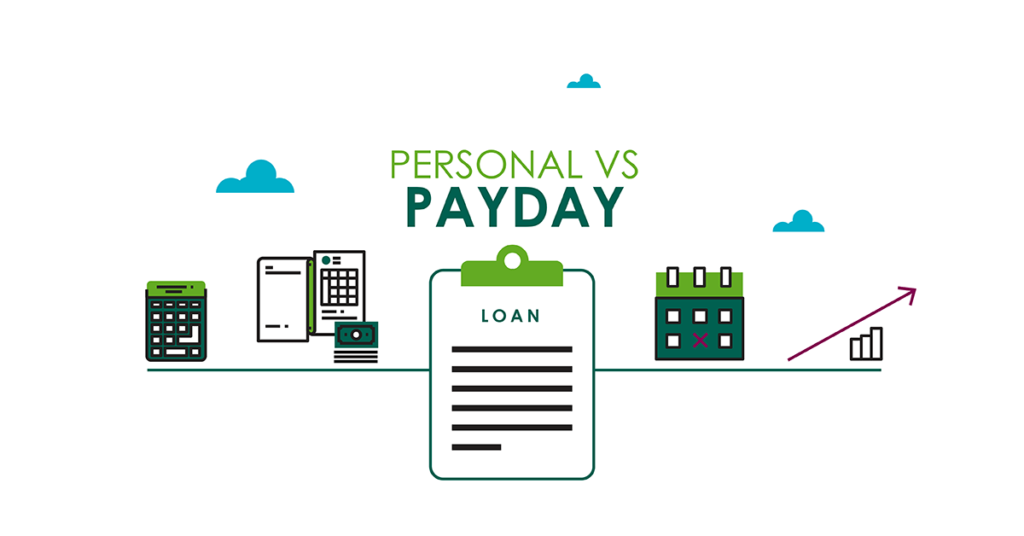 Table of content
What's the difference between personal loans and payday loans?
While they may sound similar, they are vastly different financial tools commonly used by people with very different financial needs.
A payday loan is a "relatively small amount of money lent at a high rate of interest on the agreement that it will be repaid when the borrower receives their next paycheck," as defined by the Consumer Financial Protection Bureau. A personal loan is an unsecured loan—so no collateral is needed—used to consolidate debt or pay for life's big events.
You've been there before. Something just happened that requires you to spend hundreds of dollars (if not thousands), but there's not enough money in your bank account. To make matters even worse, your paycheck isn't arriving for another two weeks. As you approach seasons filled with plenty of spending necessities for gifts and presents, you might feel even more pressure than usual to get hold of some cash now.
What can you do to get the money you need? It may be tempting to consider getting a payday loan, but we want to warn you that it's a seriously dangerous proposition. You may have heard many people say such things before about how dangerous a payday loan can be, but we wanted to show you a concrete example to demonstrate just how expensive it can be.
But there's a bit more to it than that. Let's take a closer look at personal loans versus payday loans.
What Is a Payday Loan?
Payday loans are unsecured cash advances for small amounts of money (usually less than $1,000) with very high-interest rates and short-term repayment demands. A typical loan $500, which borrowers often need to cover essentials such as rent, utilities, food or a medical bill. Though the name suggests loans are linked to a borrower's paycheck, lenders will sometimes issue loans if they are certain the borrower will have access to repayment cash soon.
In the United States, payday loan operators typically operate from storefronts in low-income neighborhoods. Their customers generally have poor credit and have no other access to money to cover urgent bills. Payday lenders use different methods for calculating interest rates, often demanding nearly 400% on an annualized basis.
Though many people assume payday lenders charge high interest because they deal with high-risk customers, default rates are typically quite low. Many states now regulate payday loan interest rates, and many lenders have withdrawn from states that do.
Cons of a Payday Loan:
Payday Loans Are Very Expensive – High-interest credit cards might charge borrowers an APR of 28 to 36%, but the average payday loan's APR is commonly 398%.
Payday Loans Are Financial Quicksand – Many borrowers are unable to repay the loan in the typical two-week repayment period. When it is due, they must borrow or pay another round in fees, sinking them deeper and deeper into debt.
Borrowing from Short-Term Lenders Is too Easy – Unlike bank loans and credit card accounts, payday loans don't require extensive paperwork. You can get one just by walking into a store, signing some papers and writing a check. And unlike other loans, once you sign the papers and take the money, you can't change your mind since the loans commonly don't contain a right of recession.
Some Payday Lenders Want the Right to Access Your Bank Account – They say it will save you the hassle of writing the commonly used post-dated check. But if the loan comes due and the funds aren't in your account, the payday lender can make repeated attempts to withdraw the money, often resulting in multiple overdraft charges of $35 or more.
Payday Lenders Can Be Ruthless Debt Collectors – If you can't repay the loan, prepare for a barrage of tactics that includes late-night calls from debt collectors.
Pros of a Payday Loan:
Payday Loans Are Very Accessible – You can walk into any payday storefront and get a payday in about 10 minutes
Funding Process Is Almost Instant – Cold hard cash in the palm of your hands in a matter of minutes. Once paid, you can get another payday loan all over again. If you need a small amount of cash receiving a payday loan is a quick fix.
What Is a Personal Loan?
A personal loan is an installment loan that provides funds borrowers can use for any purpose, unlike an auto loan or a mortgage, which are reserved solely for the purchase of certain property that is then used as collateral for the loan. Personal loans usually are not backed by collateral, so they are often for lower amounts and have higher APRs than other types of installment loans. There's just more risk for the lender. However, there are some secured personal loans available for people who want to put up collateral. Personal loans also have relatively short repayment terms, with most requiring full payment in 12 to 60 equal monthly installments.
Personal loans are available from banks, credit unions, and online lenders.
Pros of a Personal Loan
High versatility: You can use a personal loan for almost anything you want. Some of the most common reasons for getting personal loans to include home improvement, rent, electricity bills, medical expenses, funding a small business, and travel.
Ability to pay overtime: A personal loan will allow you to spend a lump sum of money and then pay it back over the course 12-60 months, typically. So your financial burden in any one month will be relatively small compared to the total. In addition, you know what your payment will be each month, which allows you to plan ahead.
Ability to consolidate debt: If you have multiple debts with high-interest rates, you may be able to take out a personal loan with a lower interest rate and use the loan to pay off the existing debts. That leaves you with only one monthly payment and less interest accumulation.
Quick decisions: It typically takes 1 business day to get a personal loan. You may even be able to get approved and receive your funds the same day in some cases. Applying online gets you the fastest decisions.
No collateral: Most personal loans are unsecured, meaning they don't require any collateral. If you can't pay the loan back, the lender can't immediately take your possessions. They'll have to send your debt to collections or take you to court.
All in all, personal loans are useful for a large variety of purposes, and they allow you to pay off big expenses over time. If you're ready to take out a personal loan, consider KwikCash as your personal lender